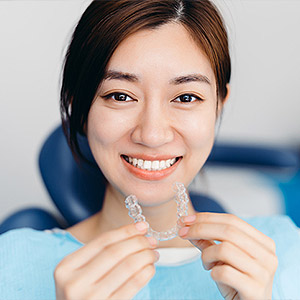 Advances in technology often lead to greater choices for things like automobiles or smartphones. In recent decades, advances in orthodontics have given families another choice besides braces for straightening teeth: clear aligners.
Clear aligners are a series of computer-generated mouth trays of clear plastic that are custom made for an individual patient's teeth. Like braces, these trays worn in the mouth put pressure on the teeth to move in a desired direction. Patients wear an individual tray for about two weeks and then change it out for the next tray in the series. Each subsequent tray is designed to pick up where the former tray left off in the progress of tooth movement.
Although treatment takes about as along as braces, clear aligners have some distinct advantages. First and foremost, their clear plastic construction makes them nearly invisible to outside observers. This makes them ideal for appearance-conscious teens (or adults) who may be embarrassed by the look of metallic braces.
And unlike their fixed counterpart, clear aligners can be removed by the wearer for meals, hygiene and the rare special occasion. As a result, patients with aligners aren't as restricted with food items and have an easier time keeping their teeth clean and avoiding dental disease than braces wearers.
But although definitely a benefit, removability can be potentially problematic depending on the maturity level of the patient. To be effective, an aligner tray must remain in the mouth for the majority of the time—too much time out negates the effect. Patients, then, must be responsible with wearing aligners as directed.
Clear aligners may also not work for treating difficult bites, especially those that require targeted movement (or non-movement) of select teeth. In those cases, braces may be the necessary treatment. But this situation has changed in recent years with the development of new devices and techniques that increase the range of bite problems clear aligners can treat.
Depending then on the bite problem and a patient's level of personal responsibility, clear aligners can be a viable orthodontic choice. And just like braces, they too can improve both dental function and appearance.
If you would like more information on orthodontic options for teens, please contact us or schedule an appointment for a consultation. You can also learn more about this topic by reading the Dear Doctor magazine article "Clear Aligners for Teens."