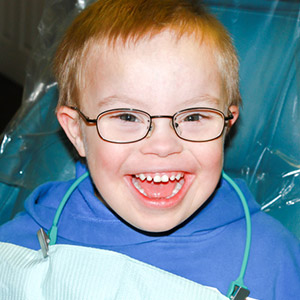 Preventing tooth decay from developing in your child's teeth requires a strong commitment to daily oral hygiene. But if you have a child with a chronic physical or behavioral condition, you might find it difficult to keep that commitment in the light of other pressing health needs.
But tooth decay is just as important a health issue as the others with which you may contend. Because primary teeth guide incoming permanent teeth to erupt properly, losing them prematurely can lead to a poor bite and other associated problems. This could further diminish their quality of life already compromised by their chronic condition.
Helping your special needs child avoid tooth decay isn't easy—but it can be done. Here's how!
Brush and floss for them. Normally, a parent's goal is to help their children learn to care for their teeth on their own. But depending on the nature of your child's chronic disease, that may not be possible. Instead, you may need to take an active role in their daily hygiene for the foreseeable future, even brushing and flossing for them if necessary.
Model proper dental care. Even so, it's still a good idea to guide them toward performing oral hygiene tasks without assistance, according to their abilities. This could be a long road, though, one that requires your active participation. You can ease this process by continuously modeling good dental care behavior for them through brushing and flossing together.
See an understanding dentist. Although caring for a special needs child can be isolating, you don't have to go at it alone. That includes taking care of their teeth and gums: A dentist who has both training and experience in treating children with chronic health conditions can become an important partner in your efforts to fight tooth decay.
Communicate between all care providers. Likewise, having everyone involved in your child's care on the same page can make decay prevention a much easier process. Be sure then to share your concerns about your child's needs, including dental care, with attending physicians, therapists and, of course, dentists.
If you would like more information on dental care for special needs children, please contact us or schedule an appointment for a consultation. You can also learn more about this topic by reading the Dear Doctor magazine article "Managing Tooth Decay in Children With Chronic Diseases."