My Blog
Posts for: June, 2017
By Perimenis Family Dental Practice
June 16, 2017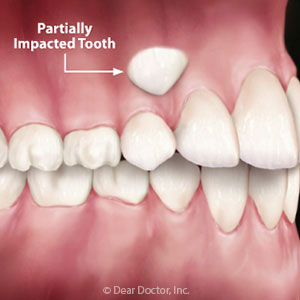 Children's permanent teeth normally erupt over several years after first forming below the gum line. All their permanent teeth should come in by the time they reach early adolescence.
Unfortunately, this process doesn't always happen as it should. If the erupting teeth become crowded due to a poor bite (malocclusion), teeth still to come in may not have enough room to fully erupt. They become impacted, a condition in which the visible crown remains partially or completely submerged below the gum line.
Impacted teeth create consequences for other teeth and dental health overall. They more readily cause abscesses (a localized infection within the gum tissue) and can damage the roots of nearby teeth. Impacted front canine (eye) teeth can interfere with bite function and their visual absence mars an otherwise attractive smile.
If your child's canine teeth have failed to erupt properly, there is a way to help them fully come in if you act before their mouth structure fully matures. The first step is an orthodontic evaluation of their entire bite. This will determine if there's enough space to move other teeth to make room for the impacted canines.
If so, we would then find the exact position of the impacted teeth using x-rays and possibly cone beam CT scanning for a detailed three-dimensional image. The teeth could be in a variety of positions, such as angled toward the roof of the mouth or cheek or buried high in the jawbone. If the teeth are too far out of position the best course of action may be to remove them and replace them later with a dental implant.
If the impacted teeth, though, are in a feasible position for retrieval, we first expose each tooth through the gums with a minor surgical procedure and bond a small bracket to it. We then attach a small gold chain to the bracket that loops over an orthodontic appliance attached to other teeth. The appliance will exert pressure over several months to pull the tooth into proper position.
If successful, your child will gain the use of these important teeth and a more attractive appearance. But don't delay — this desired outcome will become much harder if not impossible to attain as their teeth and jaws continue to develop.
If you would like more information on treating impacted teeth, please contact us or schedule an appointment for a consultation. You can also learn more about this topic by reading the Dear Doctor magazine article "Exposing Impacted Canines."
By Perimenis Family Dental Practice
June 01, 2017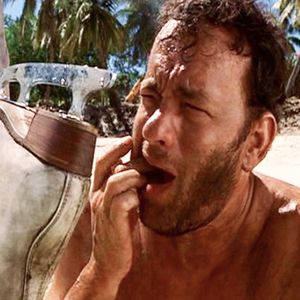 Did you see the move Cast Away starring Tom Hanks? If so, you probably remember the scene where Hanks, stranded on a remote island, knocks out his own abscessed tooth — with an ice skate, no less — to stop the pain. Recently, Dear Doctor TV interviewed Gary Archer, the dental technician who created that special effect and many others.
"They wanted to have an abscess above the tooth with all sorts of gunk and pus and stuff coming out of it," Archer explained. "I met with Tom and I took impressions [of his mouth] and we came up with this wonderful little piece. It just slipped over his own natural teeth." The actor could flick it out with his lower tooth when the time was right during the scene. It ended up looking so real that, as Archer said, "it was not for the easily squeamish!"
That's for sure. But neither is a real abscess, which is an infection that becomes sealed off beneath the gum line. An abscess may result from a trapped piece of food, uncontrolled periodontal (gum) disease, or even an infection deep inside a tooth that has spread to adjacent periodontal tissues. In any case, the condition can cause intense pain due to the pressure that builds up in the pus-filled sac. Prompt treatment is required to relieve the pain, keep the infection from spreading to other areas of the face (or even elsewhere in the body), and prevent tooth loss.
Treatment involves draining the abscess, which usually stops the pain immediately, and then controlling the infection and removing its cause. This may require antibiotics and any of several in-office dental procedures, including gum surgery, a root canal, or a tooth extraction. But if you do have a tooth that can't be saved, we promise we won't remove it with an ice skate!
The best way to prevent an abscess from forming in the first place is to practice conscientious oral hygiene. By brushing your teeth twice each day for two minutes, and flossing at least once a day, you will go a long way towards keeping harmful oral bacteria from thriving in your mouth.
If you have any questions about gum disease or abscesses, please contact us or schedule an appointment for a consultation. You can learn more by reading the Dear Doctor magazine articles "Periodontal (Gum) Abscesses" and "Confusing Tooth Pain."