My Blog
Posts for: December, 2020
By Perimenis Family Dental Practice
December 21, 2020

If you're among the estimated 14 million families with a healthcare flexible spending account (FSA), New Year's Eve has an added meaning—that's typically the deadline for using any current year funds. Since any remaining money in your FSA could go poof at the stroke of midnight on December 31st, you might be looking for a way to spend it. If so, consider a dental health boost for you and your family.
FSAs were created in the 1970s by the U.S. Government as a salary benefit that employers could offer employees. Instead of receiving all of their pay as taxable income, employees could designate a portion of it (currently up to $2,650) in a non-taxable account to use for certain medical and dental expenses. An FSA thus provides families a way to pay for uncovered healthcare costs while saving on their taxes.
But because most FSAs expire by the end of the year and then restart with a fresh balance in the new year, there's a natural concern that you will "use or lose" remaining money. People thus begin looking for eligible expenses like treatments, prescribed medications or eyeglasses. They can't, however, use them for items like over-the-counter medical products (though some pain relievers get a pass this year because of COVID-19), as well as most things cosmetic.
The same generally holds true for dental expenses—you won't be able to use FSA funds for procedures like teeth whitening or veneers. Toothbrushes and other routine oral care products are also ineligible, although you may be able to buy items like a water flosser if your dentist issues you a Letter of Medical Necessity (LMN).
Still, there's a wide range of eligible dental items you could pay for with remaining FSA funds.
Prevention measures. Any procedures or treatments intended to prevent disease are typically FSA-eligible. These can include measures like regular dental cleanings, sealants or fluoride applications.
Disease treatment. FSAs cover procedures like fillings, extractions, gum surgery or root canals. This could include repairing damage from disease through dental bonding or crowns, which might also improve your smile.
Dental restorations. Missing teeth restorations like bridgework, dentures or dental implants are also covered. These may improve your appearance, but they primarily restore disrupted dental function.
Out-of-pocket expenses. Although you can't pay for dental insurance premiums, an FSA may be able to help in other ways. You can use FSA funds for co-pays or any remaining out-of-pocket expenses.
If you're not sure what dental expenses might be eligible for FSA funds, give our office a call and we can provide you guidance. If FSA funds can help, you'll be able to improve your dental health—and possibly your appearance—before you ring in 2021.
If you would like more information about managing your dental care, please contact us or schedule a consultation.
By Perimenis Family Dental Practice
December 09, 2020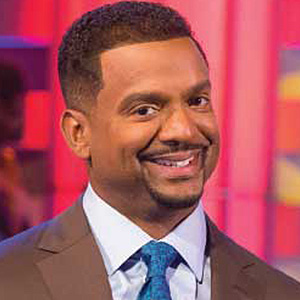 Remembered fondly by fans as the wacky but loveable Carlton on The Fresh Prince of Bel-Air, Alfonso Ribeiro is currently in his fifth year hosting America's Funniest Videos. It's the perfect gig for the 48-year-old actor, who loves to laugh and make others laugh as well. This is quite the opposite experience from one he had a few years ago that he remembers all too well: a severely decayed tooth.
After seeing his dentist for an intense toothache, Ribeiro learned he had advanced tooth decay and would need root canal treatment. Ribeiro wasn't thrilled by the news. Like many of us, he thought the procedure would be unpleasant. But he found afterward that not only was the root canal painless, his toothache had vanished.
More importantly, the root canal treatment saved his tooth, as it has for millions of others over the last century. If you're facing a situation similar to Alfonso Ribeiro's, here's a quick look at the procedure that could rescue your endangered tooth.
Getting ready. In preparation for root canal therapy, the tooth and surrounding gums are numbed, often first with a swab of local anesthesia to deaden the surface area in preparation for the injection of the main anesthesia below the surface. A dental dam is then placed to isolate the infected tooth from its neighbors to prevent cross-contamination.
Accessing the interior. To get to the infection, a small access hole is drilled. The location depends on the tooth: in larger back teeth, a hole is drilled through the biting surface, and in front teeth, a hole is drilled on the backside. This access allows us to insert special tools to accomplish the next steps in the procedure.
Cleaning, shaping and filling. Small tools are used to remove the diseased tissue from the interior tooth pulp and root canals. Then the empty spaces are disinfected. This, in effect, stops the infection. Next, the root canals inside the tooth are shaped to allow them to better accept a special filling called gutta percha. The access hole is then sealed to further protect the tooth from future infection, and a temporary crown is placed.
A new crown to boot. Within a couple weeks, we'll cap the tooth with a long-lasting lifelike crown (or a filling on certain teeth). This adds further protection for the tooth against infection, helps strengthen the tooth's structure, and restores the tooth's appearance.
Without this procedure, the chances of a tooth surviving this level of advanced decay are very slim. But undergoing a root canal, as Alfonso Ribeiro did, can give your tooth a real fighting chance.
If you would like more information about root canal treatments, please contact us or schedule a consultation. To learn more, read the Dear Doctor magazine articles "A Step-By-Step Guide to Root Canal Treatment" and "Root Canal Treatment: How Long Will It Last?"